Cardiac amyloidosis: General information
Pathophysiology of cardiac amyloidosis
Cardiac amyloidosis is a type of systemic amyloidosis that affects the heart. Systemic amyloidosis is a rare disease in which abnormal proteins called amyloid fibrils build up in various organs and tissues in the body, causing damage and disrupting normal function. There are several types of amyloidosis, including amyloid light chain (AL) amyloidosis and transthyretin amyloidosis (ATTR), which differ in their underlying pathogenesis and clinical features.
Amyloid light chain amyloidosis [A] is caused by the overproduction and deposition of abnormal immunoglobulin light chains, which are components of the antibodies produced by plasma cells. In this disease, the abnormal light chains aggregate and form insoluble fibrils that deposit in various organs, leading to organ dysfunction and failure. AL amyloidosis is typically associated with multiple myeloma or other plasma cell disorders, but it can also occur in people without any underlying hematologic conditions.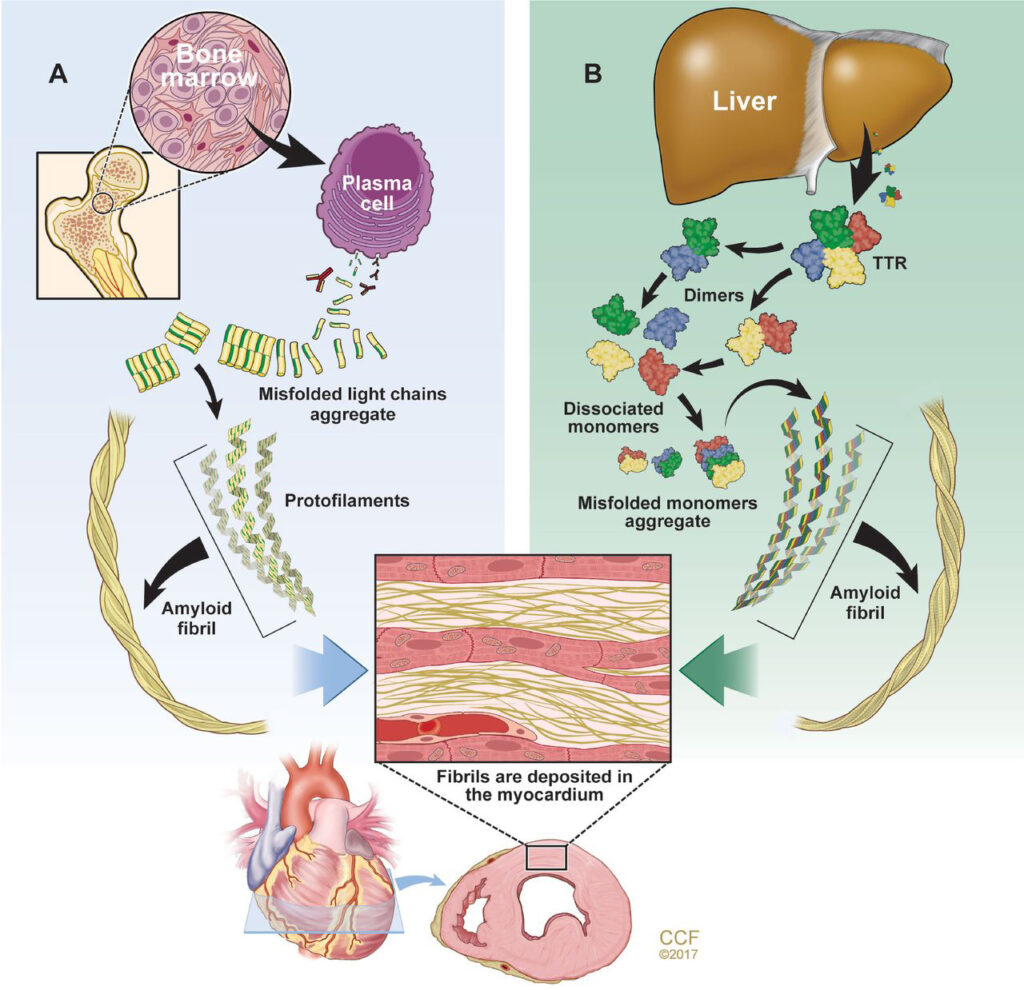 Reprinted with permission from: Donnelly J, Hanna M. Cardiac amyloidosis: An update on diagnosis and treatment. Cleve Clin J Med 2017; 84(12 suppl 3) 12-26. Copyright © 2023 Cleveland Clinic Foundation. All rights reserved. 
ATTR amyloidosis [B] is caused by TTR amyloid that is produced by the liver. TTR is a protein that transports thyroid hormone and retinol-binding protein in the bloodstream. Misfolding of abnormal TTR is due to aging (wild-type ATTR) or mutations of the TTR gene (hereditary ATTR) and leads to amyloid dispositions in various organs and tissues.
Cardiac amyloidosis: General information
Incidence & Prevalence of Cardiac Amyloidosis
Both AL and ATTR amyloidosis are considered rare diseases, which means they affect fewer than 5 in 10.000 people. However, findings from screening and autopsy studies showed a high rate of undetected cardiac amyloidosis. This highlights the systematic underreporting of cardiac amyloidosis prevalence in earlier studies.1
Screening studies showed that about 12% of patients with heart failure may be affected by cardiac amyloidosis, mainly of the ATTR type.1 Due to increasing awareness and improvement of diagnostic tools, the incidence and prevalence have been continuously increasing in recent years.2
1Aimo A, Merlo M, Porcari A, Georgiopoulos G, Pagura L, Vergaro G, Sinagra G, Emdin M, Rapezzi C. Redefining the epidemiology of cardiac amyloidosis. A systematic review and meta-analysis of screening studies. Eur J Heart Fail. 2022 Dec;24(12):2342-2351.
2 Ney S, Ihle P, Ruhnke T, Günster C, Michels G, Seuthe K, Hellmich M, Pfister R. Epidemiology of cardiac amyloidosis in Germany: a retrospective analysis from 2009 to 2018. Clin Res Cardiol. 2023 Mar;112(3):401-408.
Cardiac amyloidosis: General information
Diagnosis of Cardiac Amyloidosis: Current clinical practice
The diagnosis of cardiac amyloidosis is complex and involves several steps including blood analysis, tissue biopsy and different imaging techniques, until a definite diagnosis can be made.
In cases where the results of diagnostic procedures are inconclusive, a biopsy of the heart tissue is required to investigate whether amyloid deposits can be detected in the heart muscle.
Because of the nonspecific symptoms and the complexity of the diagnostic process, the diagnosis of both diseases is often delayed. Studies show that an average of 7 – 10 months (range 0 – 39 months) elapse from the onset of symptoms to diagnosis3, which implies that patients may not receive the most effective treatment for their condition for many years.
3Oubari S, Naser E, Papathanasiou M, Luedike P, Hagenacker T, Thimm A, Rischpler C, Kessler L, Kimmich C, Hegenbart U, Schönland S, Rassaf T, Reinhardt HC, Jöckel KH, Dürig J, Dührsen U, Carpinteiro A. Impact of time to diagnosis on Mayo stages, treatment outcome, and survival in patients with AL amyloidosis and cardiac involvement. Eur J Haematol. 2021 Oct;107(4):449-457.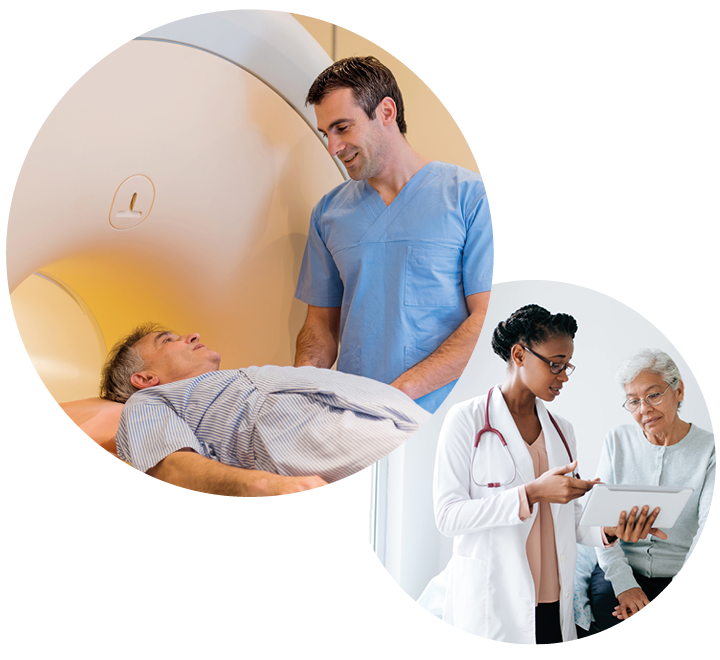 CArdiag study
Goals of the CArdiag study
[18F]florbetaben (FBB) is a radiopharmaceutical indicated for Positron Emission Tomography (PET) imaging of β-amyloid neuritic plaque density in the brains of adult patients with cognitive impairment who are being evaluated for Alzheimer's disease (AD) and other causes of cognitive impairment and is commercially available as Neuraceq®.
The main goal of the CArdiag study is to validate FBB for the diagnosis of cardiac AL amyloidosis.  The study will also investigate, if the FBB PET scan is able to show the amount of amyloid that is deposited in the heart. This may allow to determine the stage of the disease.
Additional goals of the study are the differentiation between AL and ATTR cardiac disease and the determination of amyloid deposits in other organs than the heart.
The radiotracer FBB may be able to detect amyloid deposits and help reduce the complexity of diagnosis and shorten the time to therapy.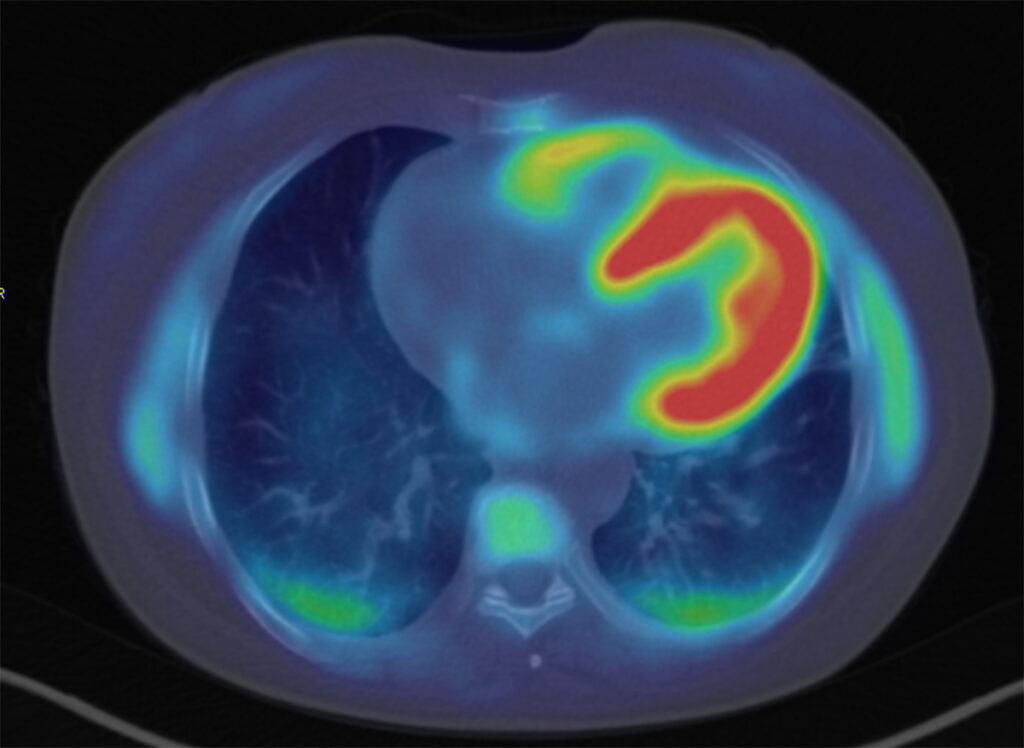 The CArdiag study
Study Sites
The CArdiag study sites are located in UK, Germany, Spain and the US:

69120 Heidelberg, Germany
28027 Madrid, Spain
28222 Madrid, Spain
Kansas City, MO 64111, United States
Pittsburgh, PA 15260, United States
Philadelphia, PA 19104, United States

69120 Heidelberg, Germany
28027 Madrid, Spain
28222 Madrid, Spain
Kansas City, MO 64111, United States
Pittsburgh, PA 15260, United States
Philadelphia, PA 19104, United States